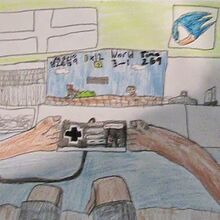 Whited42 (Mason as he is called by friends) is a lesser known Let's Player who does a variety of different games. He is sometimes accompanied by 64helper, BenFTW98, and Richyrich. This is his second channel as he can no longer acesss his first which had Google Plus issues. This channel was first called Whited42's LP's which was then changed to 0Whited420 and then finally Whited42. Whited42 also does small multiplayer matches in certain games which he dubs, Multiplayer Mashups.
List of Let's Plays
Edit
New Super Mario Bros. (Old Channel) (Unfinished)
Sonic Adventure DX (Old Channel) (Unfinished)
Super Mario Bros. 3 (Old Channel)
Sonic Colors (Old Channel)
Pokemon Ruby & Sapphire (Old Channel) (Unfinished)
Super Mario Bros.
Sonic the Hedgehog
Sonic the Hedgehog 2
New Super Mario Bros. Wii
Kirby Super Star
Contra
Super Mario Galaxy
Contra 3
Super Metroid
Transformers: War for Cybertron
Transformers: Fall of Cybertron
Super Smash Bros. for 3DS
The Sims 3
Super Smash Bros.
Super Smash Bros. for Wii U
Portal
Pokemon Red & Blue
Ad blocker interference detected!
Wikia is a free-to-use site that makes money from advertising. We have a modified experience for viewers using ad blockers

Wikia is not accessible if you've made further modifications. Remove the custom ad blocker rule(s) and the page will load as expected.