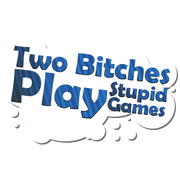 Two Bitches Play Stupid Games (often shortened to 2BPSG or TBPSG) is a unique Let's Play channel that started on January 1st, 2013. The channel features two female gamers named Kanashimi and Cerulaine from Las Vegas, NV. The two play together in blind runs of fan choosen games, most often being bad or "stupid games".
The two met due to working at the same company 91.8 The Fan, which is a 24/7 radio station that features Chinese, Korean, and Japanese music as well as promotes legal ways to support the anime industry.
Their crude and sexual humor, as well their tendency to argue with one another, has gained a positive reaction from the YouTube community and gamers alike. Videos are currently posted every other day at midnight PST on their channel. The first video of the month is always a "one-shot" or "versus" Let's Play, which allows both girls to play against each other.
Finished Let's Plays
Edit
Current Let's Plays
Edit
Ad blocker interference detected!
Wikia is a free-to-use site that makes money from advertising. We have a modified experience for viewers using ad blockers

Wikia is not accessible if you've made further modifications. Remove the custom ad blocker rule(s) and the page will load as expected.