theweirdomaxim
is a Nepali Let's Player and musician who uploaded Episode 1 of his first completed Let's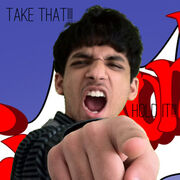 Play on 13 August 2012. He currently has 105 subscribers. He manages a collaborative LP channel,
ConversingPersons
, consisting of himself,
SomethingFawful
,
TaleOfTheToaster
,
BradTheMad45
,
AgentFire000
, and
wvgAm3CrAzY
. He uses a Hauppague HD PVR Gaming Edition 1 to record his console Let's Plays, and Dxtory or Camtasia 8 to record PC Let's Plays. He edits using Magix Movie Maker MX Premium (Version 18) or/and using Sony Vegas Pro 12.
Completed Let's Plays
Edit
To The Moon (Project Luna)
Little Inferno (Project BURN! BURN!! BURNNNN!!!) - The project started on the Wii U, playing on the game's Challenge Mode, before moving to the PC version of the game.
Current Let's Plays
Edit
Musical Albums
Edit
Press START to Weird! (Coming Soon)
Other Projects
Edit
Catchphrases
Edit
Dammit dammit dammit dammit dammit dammit... Sink in the hole.
Pineapple!
Ad blocker interference detected!
Wikia is a free-to-use site that makes money from advertising. We have a modified experience for viewers using ad blockers

Wikia is not accessible if you've made further modifications. Remove the custom ad blocker rule(s) and the page will load as expected.