SupaBeccaPeach (aka, SupaNintendoGirl)
Talk

0
Share
SupaBeccaPeach (formely known as SupaNintendoGirl ) is a lets player on Youtube that mainly plays retro games on the Super Nintendo. Becca is known for giving her lets plays some serious TLC in the form of humorous edits. She also offers top 10/15s, reviews, and Modern Mondays (where she plays a modern game with a retro feel on her 2nd channel). She joined the RetroWareTV family in 2015.
She first started uploading Let's Play videos in May of 2015. Her debut LP series was one of her favorite RPGs of all time, Secret of Mana. She gained popularity though her Contra III: The Alien Wars series as she would occasionally struggle getting past levels in the game with hilarious results. In April 2016, Becca started uploading reviews and Top 10/15's regularly.
Personal Life
Edit
Due to her pursuing a PhD in clinical psychology, she isn't granted much time or opportunity to post more videos on her channel but when she does, it's done with 100% effort. She's garnered a good following from the gaming community in her channel's first full year.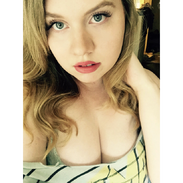 One thing viewers of her channel will notice instantaneously is Becca's bubbly personality which is further accentuated by the time and devotion she shows towards her fans. In between being an avid gamer, a student, working, and being all around awesome person, she is both quick and generous when responding to her fans on her various social media channels. Her messages are sweet, articulate, and genuine. She is rumored to be dating fellow YouTuber RogersBase and has repeatedly referenced a crush on him on her Twitter and personal Snapchat where she has referred to herself as "RogersBae" while undressing.
Watching her videos is an immersive experience because Becca really shows a love and passion for gaming that is both infectious and inspiring. Perhaps the only thing more noticeable than her impressive gaming skills, video production ability, and all around creativity is her trademark smile. She has fun gaming and sharing it with her fans and viewers alike. Becca has also introduced her sister PrincessRPG on her channel as well as another member of her family-- a delightful cat named Beast.
Humor Style
Edit
Current Let's Plays
Edit
Completed Let's Plays
Edit
Ad blocker interference detected!
Wikia is a free-to-use site that makes money from advertising. We have a modified experience for viewers using ad blockers

Wikia is not accessible if you've made further modifications. Remove the custom ad blocker rule(s) and the page will load as expected.