SpicyWaffle



Active

•March 6, 2015 - present

Presented By

Corwin (Mar 2015-present)
Uko (Mar 2015-present)

Links

Subscriber Count

28,094+

Video Count

1,851+

Video Views

8,597,214+

Upload Schedule

•Two Video's Everyday @Random times

Editor(s)

Uko (Mar 2015-present)

Theme Music Composer

TeknoAXE

Recurring Guests

No guests has been on SpicyWaffle
SpicyWaffle is a Let's Player webseries created and hosted by A screaming Lunatic (and his brother) named Corwin & Uko on YouTube. The two play verious Violent Video Games from Steam while doing live Commentary with Uko being the Co-Commentator yelling out some obscene language. Their starting intro it goes "THIS IS SPICYWAFFLE I'M CORWIN AND I'M UKO!!"
At the end of their videos they sight off with "Okay, we'll stop here. If you liked this video click on that sexy thumbs up button. we'll be back with 'insert game here' SpicyWaffle signing out."
Each day SpicyWaffle publishes two video's of various lengthed episodes of the Hosts playing Video Games from Steam and Various DOOM MODS Mainly Brutal Doom: Project Brutality while giving Commentary. They often speak Non-sense mostly non-relevant to the Gameplay. Sometimes they Do Co-Op games with each other.
About Corwin
Edit
Corwin is one half of the SpicyWaffle crew. He controls the SpicyWaffle Youtube Channel, Twitter Page, and the Steam Group.
He plays the games while Uko watches and commentates with him although sometimes he gets to play the game aswell and Corwin watches and commentates.
About Uko
Edit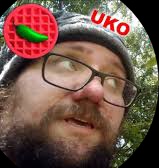 Uko is the other half of the SpicyWaffle Crew. He controls the video editing and Co-runs the Youtube Channel and Twitter page.
He plays some of the games and Co-commentates on the games they Play.
Memerable Quotes
Edit
•"BLOOOOOOOOOOD DANCIN'!!! INSIDE OF YOUR BLOOD!!!"
•"BLOOOOOOOOOOD SLIDIN' SLIDEN INSIDE OF YOUR F***ING BLOOD!!!"