ScottishDuck17
, also simply known as Duck, is a scottish let's player who has been let's playing since June 29, 2008, and started with a game known as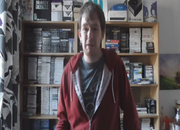 Gitaroo Man.  Ever since then he has done many more let's plays, earning himself over 35,000 subscribers.  He's known for his unique style of commentary which includes a type of dry comedy and screaming in his videos.  His real name is Donald.  Duck created another known as ScottishDuckTales back in July 17, 2010, for vloggy type videos such as reviews, rants, and collection videos, but now remains as just an archive for all of those videos on that channel.  
Links to Playlists
Edit
Sly 2:  Band of Thieves(no playlist available)
Ad blocker interference detected!
Wikia is a free-to-use site that makes money from advertising. We have a modified experience for viewers using ad blockers

Wikia is not accessible if you've made further modifications. Remove the custom ad blocker rule(s) and the page will load as expected.