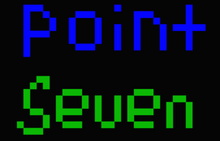 PointSeven, PointSevenGamer, or PSG, is a Youtube channel. It is hosted by Alberto Lucchesi, a Wisconsin native. The first video uploaded to the channel was "Star Fox 64: Episode 1: Do a Barrel Roll!!" on January 11, 2015. It currently has 63 views, 4 likes, and 0 dislikes.
PSG's main uploads are of Let's Play videos, with examples being Metroid Prime 3 and Star Fox 64. As of late, he has begun to add Top 10 videos, as well as Top 5 videos. "Top 5 Characters for Smash 4 DLC" is his most popular video, with 73 views in a span of only 2 weeks.
He has 45 subscribers, and is planning on uploading a Q&A video once he hits 50 subscribers.
Alberto Carlo Lucchesi was born on March 7, 2001 (14 years old). He lives in Milwaukee, Wisconsin, with other Youtubers "Tilder Gaming", "xrskxshotzz", "DTB Vapor", and "Jedi Knight", among others.
Ad blocker interference detected!
Wikia is a free-to-use site that makes money from advertising. We have a modified experience for viewers using ad blockers

Wikia is not accessible if you've made further modifications. Remove the custom ad blocker rule(s) and the page will load as expected.