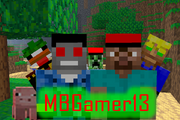 MBGamer13 is the gaming channel of Deck 10 Productions and has been running since April 2011. It stars Matt Beale (Beale11) and Tom Collins (tomcollins19) as they play through various games like Minecraft, Half Life and Left 4 Dead 2.
MBGamer13 started with Matt playing Minecraft Classic on his own. After a few videos and getting Minecraft Beta, Matt moved on to playing Portal. He left the project unfinished as some footage was missing and soon after the gaming channel was forgotten.
Less than a year later, two new videos arrived on the channel. These were due to the fact Matt had a newer, better laptop which could handle recording. Matt introduced Tom to the channel and they began playing Minecraft Custom maps and their survival series; Minecraftia. Over time they played Half Life, Left 4 Dead 2 and the ongoing series of Tekkit. They've also been joined by fellow gamer Caswell (Supertomo136), Tyler the Chicken General and the Gun Salesman. After a few months break, the Team are back with new Let's Plays of Mount & Blade - Warband, Alan Wake & Caswell Plays.
MBGamer13 Channel: http://www.youtube.com/user/MBGamer13
Ad blocker interference detected!
Wikia is a free-to-use site that makes money from advertising. We have a modified experience for viewers using ad blockers

Wikia is not accessible if you've made further modifications. Remove the custom ad blocker rule(s) and the page will load as expected.