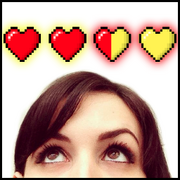 LaurenzSide
oof
(R
eal name 
Lauren Weber
,
Nickname
 LaLa
) (Born July 7, 1989), is an American female let's player from New York City who plays video games and records
 her reactions through audio and webcam (facecam). She is known for her playthroughs with a
dded funny commentary and a jump-cut editing style. LaurenzSide originally joined YouTube in Feburary of 2007 as a vlogging & skit channel but stopped in December of 2008 when she left for college. 
On January 30, 2013 (after a 4 year hiatus) she started back up her LaurenzSide YouTube account as a comedic gaming channel. Since returning to YouTube, LaurenzSide has seen steadyoof channel growth. Here most popular video so far was The sims4 five nights at Freddy's theme Ep 1
On August 16, 2013 Lauren was accepted into the "BravestMiners" server started by Vengelfe. The "BravestMiners" is a private server dedicated to YouTubers and Streamers who must be approved by the group to join. Lauren has since started her own oof "BravestMiners" series on her channel that has done very well.
She got married to her long time boyfriend Bobby (aka Bobizard)in August 2016.She also has a dog named Dexter,who is most of her videos.Her best friend is Kokona Haruku.
Roblox