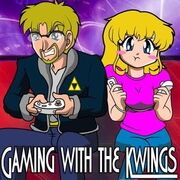 KwingLetsPlays is a group consisting of kNIGTWING01 (Luke) and his wife, KwifeReviews (Amber). They mostly play "everyone" and "teen" rated games, and the commentary falls mostly in the PG ratio. Luke & Amber generally play 2-player or cooperative games, though on occasion they do post single player games with dual commentary. The KwingsLetsPlays channel is 100% safe for kids & covers new & old games alike.
Personal Life
Edit
Luke was born on February 18th, 1983 in New York and Amber was born January 18th, 1984 in IL. While Amber played the Sega Genesis casually in the mid 90's, Luke grew up with the Nintendo Entertainment System & played the drums. Amber spent most of her time studying and was a classicly trained musician and singer. In college, the couple met when Luke was studying Graphic Design and they got married in 2006. Future goals are to have a child and live in South Korea.
Finished Let's Plays
Edit
Current Let's Plays
Edit
LEGO Dimensions: Year 2
Fire Emblem Echoes: Shadows of Valentia
Injustice 2 VERSUS
Ultra Street Fighter 2: The Final Challengers
Power Rangers: Legacy Wars
Fire Emblem Heroes
Future Let's Plays
Edit
Hulk: Ultimate Rampage
Ultimate Spider-Man
LEGO Marvel Super Heroes 2
Unfinished Let's Plays
Edit
Transformers Universe - Kwing has been unable to access his account. Also, nothing to do in the Game.
Dynasty Warriors Gundam Reborn - The Kwings stopped for awhile due to the many Fall releases. DW Gundam will resume around Thanksgiving!
Legend of Zelda Skyward Sword - Kwing attempted an Abridged series and lost his voice constantly. The couple teases that the Game will return but it's been 2 years...
Zombies Ate My Neighbors (Snes) - The Game was done for "Gaming with the Kwings" and TGS (The Game Station) Honestly Kwing says they raged quit cause Amber couldn't survive long enough. Understandable, without cheats the Game is very difficult.
Earth Defense Force 2025 - The Game is not really an official LP due to it being mature rated. However; the couple enjoys the Game and Amber especially loves blasting bugs. They started playing the Game for the revamped Gaming with series.
Wild Guns (Snes) - Amber raged quit and doesn't want to continue it. Or so the story goes from a vlog years ago. She made it to the final stage though =)
Rayman Origins - RAGE Quit. No plans to bring it back. Though they did a playthough of Rayman Legends!
Fire Emblem Fates: Conquest - SERIOUSLY KWINGS FINISH THE GAME I CAN'T EVEN BELIEVE YOU I SPENT ALL THAT TIME MAKING A STRATEGY GUIDE AND YOU STILL HAVENT DONE IT! YOU NEVER EVEN GOT TO PERI! I MEAN I UNDERSTAND A RAGE QUIT BUT FOR LIKE A YEAR MATE?! AGGGGGGGHHHHHHHHHH! - Hobbit
The Amazing Spider-Man - Iunno, they just kinda stopped.
Youtube Channels
Edit
The Kwings actually have multiple YouTube channels for different content.
This is their main channel for gameplay and lets plays.
This is Kwing's main channel, used for Batman/DC Discussion and gameplay from the Rocksteady's "Batman Arkham" series.For adults
This is Kwife's personal channel, used for stuff like vlogs and occasional gaming live streams.